WIN | LOSE
" SOMETIMES WHEN YOU WIN, YOU REALLY LOSE, AND SOMETIMES WHEN YOU LOSE YOU REALLY WIN, AND SOMETIMES WHEN YOU WIN OR LOSE YOU ACTUALLY TIE, AND SOMETIMES WHEN YOU TIE, YOU ACTUALLY WIN OR LOSE. WINNING OR LOSING IS ONE BIG ORGANIC GLOBULE, FROM WHICH ONE EXTRACTS WHAT ONE NEEDS."
WHITE MEN CANT JUMP (1992)
Tropical Bird T-shirt and Shorts
Birds take flight Tshirt and shorts
Jungle Leaf shorts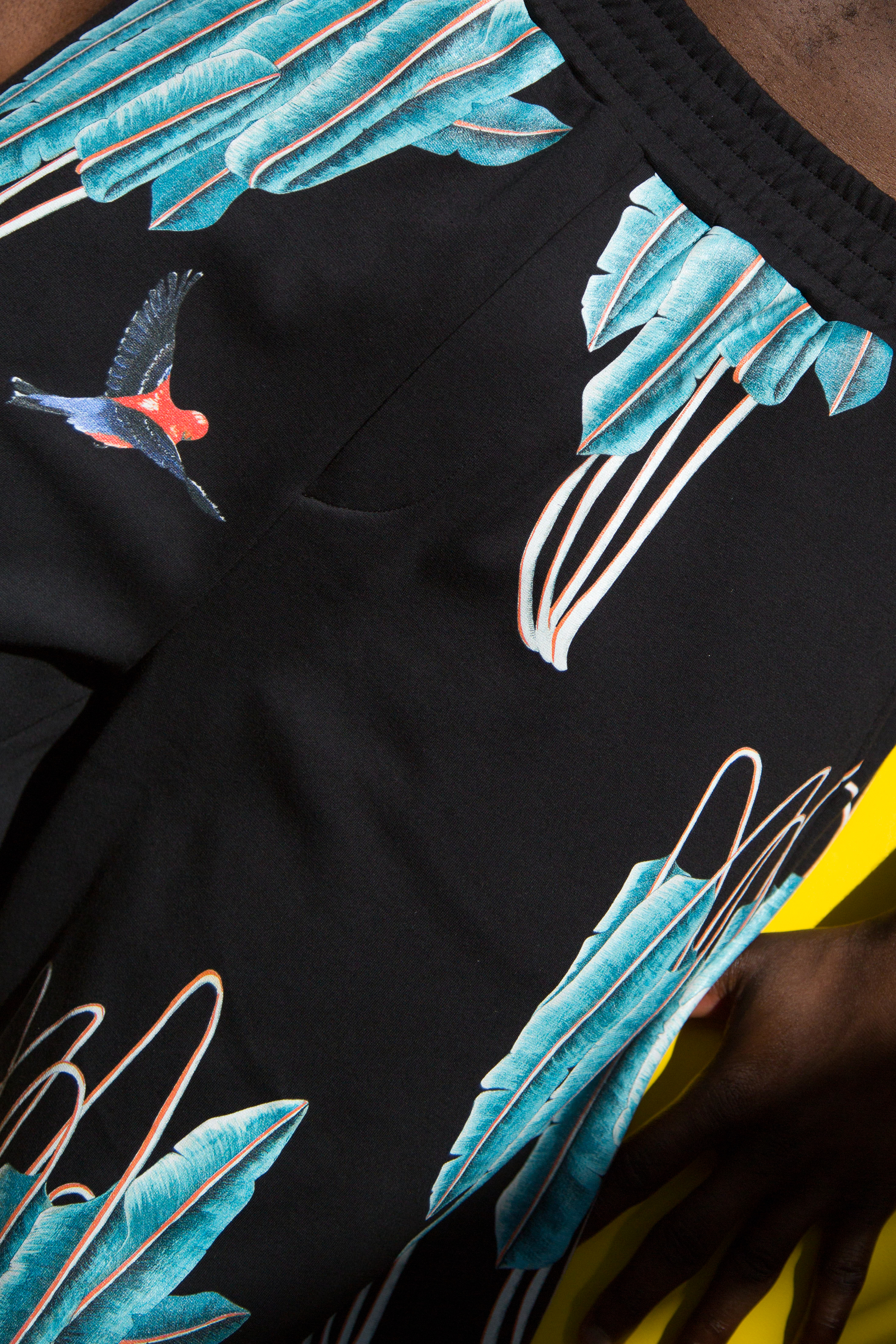 For Spring / Summer 2016 we take inspiration from the 1992 cult classic "White Men Can't Jump". Referencing the films vibe through quotes, prints, silhouettes, bold statements and rise of street-ball fashion, the collection is titled – WIN OR LOSE.
AMH uses 90's inspired silhouettes including oversized drop shoulder t-shirts, sweatshirts, vest and street-ball shorts. Re-inventing our classic jersey with a sleeker hand feel, we also introduce a new softer, structured interlock fabric for our tailored shorts, and new lightweight jersey trousers.
Alongside our staple heat seal laser cut applications you will find embroidered badges, new invisible glued seams, framis tape detailing and unique binding tape finishes.
ASHLEY MARC HOVELLE uses Hawaiian printed shirts and shorts inspired from Woody Harrelson's character bringing vibrant blood orange, emerald blue and deep orchid colours to our signature collection.
By using an advanced form of fine digital printing we are able to print vibrantly directly on to black garments. This unique process paved way for our collaboration with artist Anna Glover to create detailed hand painted tropical birds and jungle leaves on our t-shirts, shorts and trousers.
 
Ashley Marc Hovelle
AMH UNITY oversized Tshirt
AMH In the Zone
AMH Collar Sweatshirt